Just when I thought reading with my son snuggled in bed was never going to happen again, it returns! The world's recent events have meant slower mornings for us. After a quick trip downstairs to put on Bluey for the 3-year-old, I slip back in bed to read. And lately, the 6-year-old – and his favourite chapter book – have been joining me.
And that's because he can now read! Just over a year of school and he can read entire books by himself. Last year, I was reading the chapter books, and this year it's all him.
1. The 117-Storey Treehouse by Andy Griffiths and Terry Denton
This time last year we were only just introduced to these books. A year on and we've read every one of the series twice – the first time with me reading a chapter aloud every night, the second time my 6-year-old reading them to himself before bed (and sometimes staying up way too late to get to The Last Chapter).
They're entertaining books for both adults and kids. Andy and Terry get up to all sorts of mischief in their treehouses, that keep getting bigger by 13 storeys each time a book comes out. There's sharks, bears, penguins, a moose, a machine that makes honey and money, a spooncil (half pen, half pencil, that Terry keeps up his nose for emergencies)… and that's just the beginning. It's ridiculousness that works!
2. Newcastle, Central Coast & the Hunter Street Directory by UBD
My 6-year-old is mad about maps, so I decided to buy him an old fashioned street directory that he could keep in the car. It took a lot of searching to find one, as it seems that no one uses the paper versions anymore (other than 6-year-olds with a love of maps)… eventually I found a dust-covered edition on the bottom shelf of a newsagency in town.
Every drive since that day, he's had the directory on his lap, guiding us to wherever we're going. He's good too! Earlier this year he got us to a birthday party in Cameron Park (an estate full of nothing but dead-ends and round-abouts) without a single wrong turn. I'm tempted to uninstall Google Maps from my phone altogether.
3. Weirdo #13: Weirdomania! by Anh Do
What a delightful series! I'm a big fan of Anh's Brush With Fame, where Anh Do paints incredible portrait's of celebrities and gets them to talk about their lives. I never realised he would also be such a talented children's book author! Our daughters also share the same first name, which is kinda sweet.
The Weird Do books are all true-to-life stories of what it's like to be in primary school in Australia. So my 6-year-old certainly relates. There's popular kids, unpopular kids, weird families, weird names (Weir Do being the weirdest of all), unique pets, wild grandmas and a dad who loves nothing more than a fart and a good joke (often at the same time). When my son's reading these quietly to himself on the lounge, he laughs out loud. He's read every book of the series and is currently running through them a  second time – at a rate of a book a day.
4. Lift-the-Flap Biggest, Fastest, Tallest… by Darran Stobbart (Usborne)
The other day, my 6-year-old exclaimed, 'Usborne books are the best books!' And he might be right. They're full of intriguing facts, bright colours, interesting lift-the-flaps, and they're always made out of good quality paper.
Biggest, Fastest, Tallest… is the 6-year-old's favourite. He's always loved structures and machines, and as he learns more and more about the world he's constantly asking about which ones have pushed the limits. I'd like to personally thank Usborne for helping me answer my son's multitude of questions with: 'How about you look it up in your Usborne book?'
5. Pocket Puzzle Book by Usborne
My son was given this book for Christmas two years ago from his second-cousin, and it introduced him to the world of puzzles. I knew his logical mind would absolutely love the mazes, word-finders, spot-the-differences and every other intriguing puzzle in this book.
When I was a kid, puzzle books were my favourite, and I would spend hours leafing through and challenging myself to each and every puzzle. My 6-year-old and I have a lot in common, and I enjoy sharing with him all my tips and tricks that I've learned along the way.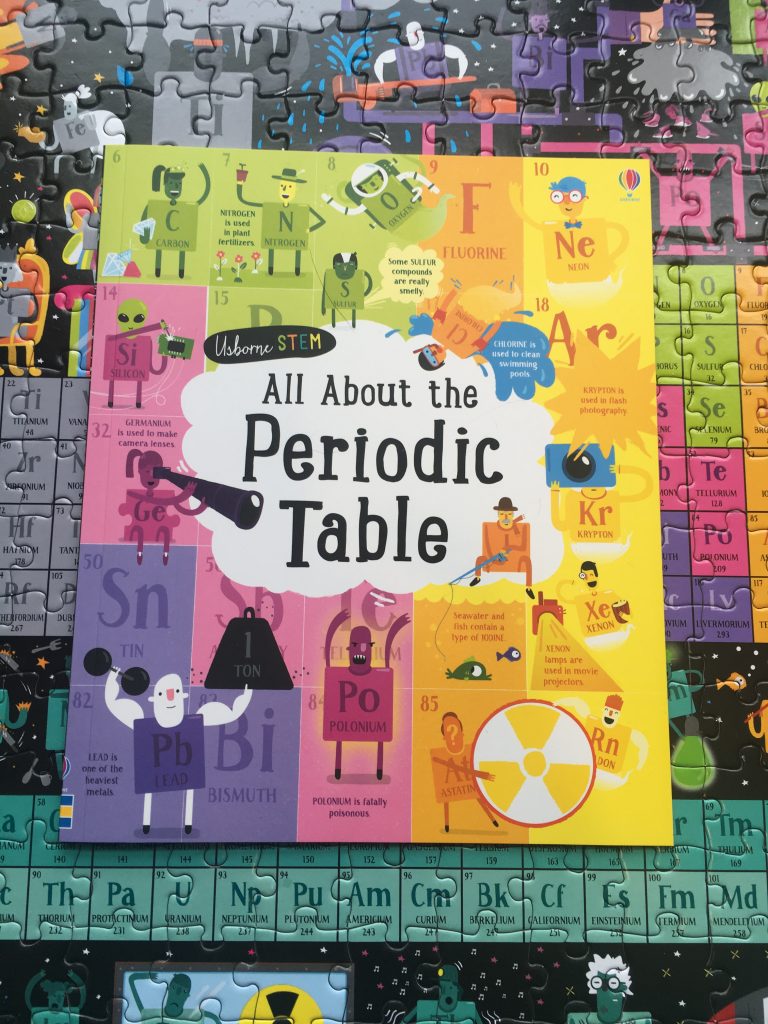 6. All About the Periodic Table by Usborne STEM
Three of the top ten books this round are by Usborne, and my 6-year-old would probably argue that number should be higher. This book comes with the Usborne STEM Periodic Table jigsaw puzzle, which is a bright 300-piece puzzle with cool little characters representing each of the elements.
The puzzle itself is fun, but my 6-year-old loves the book that came with it that explains the 118 elements in detail, what they're used for, and what makes them unique. Chemistry was never my strong-point at school, so I'm sure he already knows way more than I do.
7. Hot Wheels Reader #11: Volcano Blast! by Dave White (Scholastic reader)
'Home-readers' have always been a challenge for my 6-year-old. They're basic (very basic) stories that help kids develop their reading and vocabulary, and have been sent home in my son's school bag each week to read as homework. His interest in fiction was already so low, and with the addition of a bland storyline and word repetition, it was virtually impossible to keep his attention through any of the books sent home.
With one exception! Thank goodness for the Hot Wheels series, with its cars, volcanoes, sharks, fire and half-decent plot – where it's impossible to predict which car will win the race. Let's hope the library at school has a LOT of these on the shelves to get us through the rest of the year.

8. Cool Mind Melters by Hinkler
When the kids have got money for Christmas or birthdays, I've let them order a big load of books from the Book Club catalogue. They love going through the pages with a pen and circling their favourites, then waiting for the delivery to arrive at school.
My 3-year-old put in a big order at her preschool earlier this year, and because she's a lovely little sister, she added Cool Mind Melters for the 6-year-old too. And he's mad about it. The puzzles are more maths-based than his Usborne puzzle book and have been certainly stretching his skills.
9. Make it Work! Building by Andrew Haslam
This 1994 edition has somehow made it home to us from school, and I'm never quite sure whether the teacher knows about it (it's hard to believe a 6-year-old when he's insisting 'the teacher lets us do whatever we want!') It's a great book and about everything my son loves – building, structure, physics and mechanics.
At the 6-year-old's Kindergarten 'graduation' last year, each child stood up on stage and the teacher read out what that child wanted to be when they grew up. She prefaced my son's with, 'And I have no doubt that this is what he will be…' followed by 'engineer'. And that's why he can't get enough of books like these.
10. The Treehouse Joke Book by Andy Griffiths and Terry Denton
Ahhh, the joke book. What parent doesn't love hearing 57 jokes in a row from their 6-year-old? Thankfully, the jokes in this book are pretty good, and are split in to various categories ('Mummy, which of these do you want to hear? Space jokes, tree jokes, chicken jokes, knock-knock jokes, food jokes, crocodile jokes…').
I'm going to share my favourite joke of all from the book, categorised under 'Stupid jokes'… this one never gets old:
Q: Why did the bread van crash?
A: Accident investigators believe that it was due to a combination of factors, including high winds, icy roads, a dirty windscreen, brake failure, four flat tyres and an indicator malfunction (plus the fact that the driver was a loaf of bread).
**********
What do you think my son will be reading in another year's time!?
Follow @jessieansons